My interview for Rhodesian Ridgeback EU Magazine (issue 8 — 12/2021, pages 154-159), the text is below.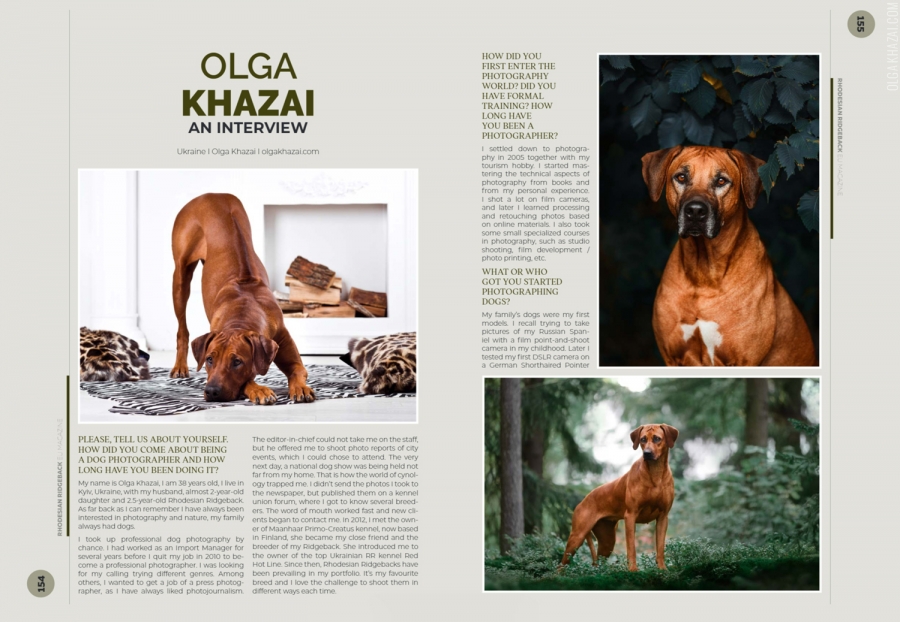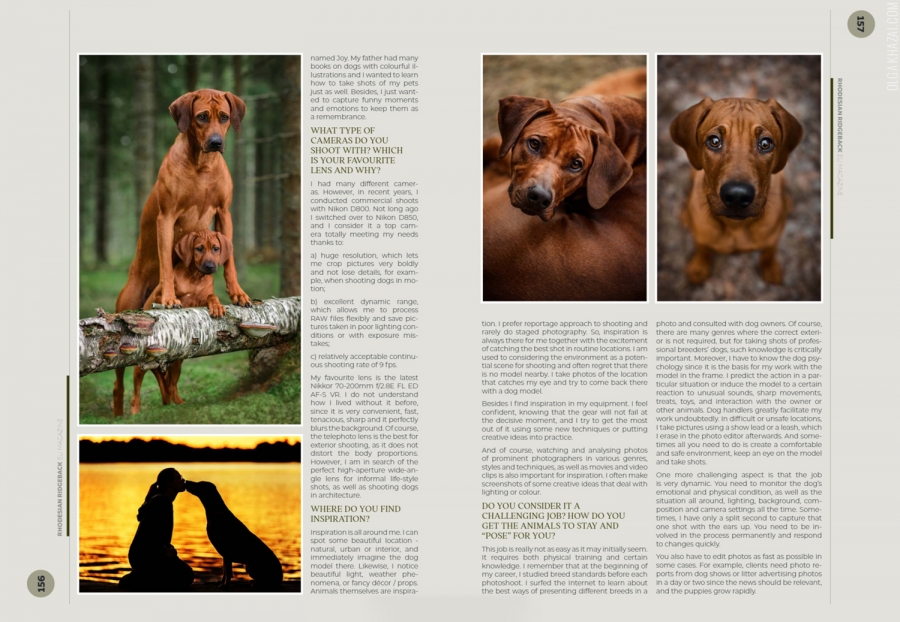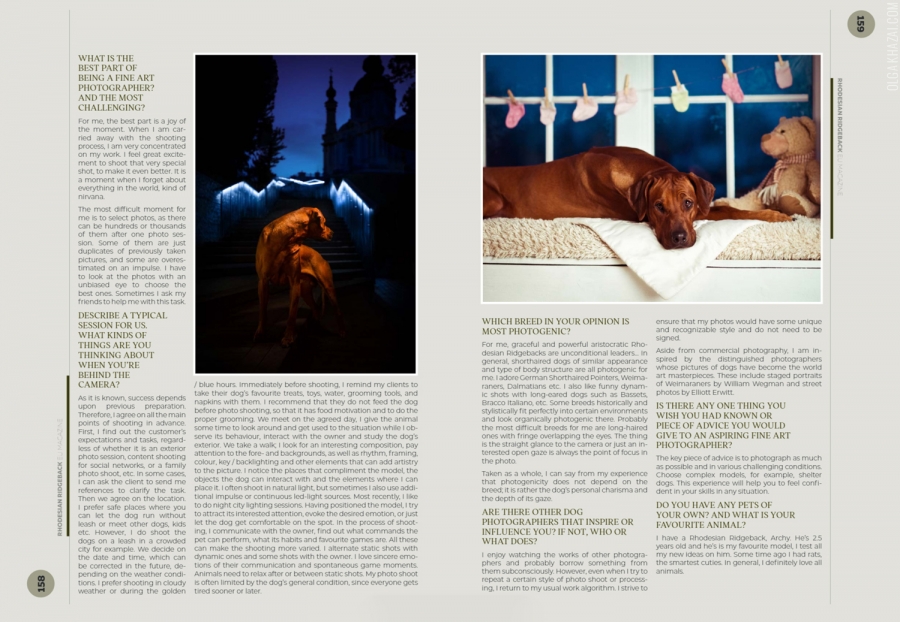 PLEASE, TELL US ABOUT YOURSELF. HOW DID YOU COME ABOUT BEING A DOG PHOTOGRAPHER AND HOW LONG HAVE YOU BEEN DOING IT?
My name is Olga Khazai, I am 38 years old, I live in Kyiv, Ukraine, with my husband, almost 2-year-old daughter and 2.5-year-old Rhodesian Ridgeback. As far back as I can remember I have always been interested in photography and nature, my family always had dogs. I took up professional dog photography by chance. I had worked as an Import Manager for several years before I quit my job in 2010 to become a professional photographer. I was looking for my calling trying different genres. Among others, I wanted to get a job of a press photographer, as I have always liked photojournalism. The editor-in-chief could not take me on the staff, but he offered me to shoot photo reports of city events, which I could chose to attend. The very next day, a national dog show was being held not far from my home. That is how the world of cynology trapped me. I didn't send the photos I took to the newspaper, but published them on a kennel union forum, where I got to know several breeders. The word of mouth worked fast and new clients began to contact me. In 2012, I met the owner of Maanhaar Primo-Creatus kennel, now based in Finland, she became my close friend and the breeder of my Ridgeback. She introduced me to the owner of the top Ukrainian RR kennel Red Hot Line. Since then, Rhodesian Ridgebacks have been prevailing in my portfolio. It's my favourite breed and I love the challenge to shoot them in different ways each time.
HOW DID YOU FIRST ENTER THE PHOTOGRAPHY WORLD? DID YOU HAVE FORMAL TRAINING? HOW LONG HAVE YOU BEEN A PHOTOGRAPHER?
I settled down to photography in 2005 together with my tourism hobby. I started mastering the technical aspects of photography from books and from my personal experience. I shot a lot on film cameras, and later I learned processing and retouching photos based on online materials. I also took some small specialized courses in photography, such as studio shooting, film development / photo printing, etc.
WHAT OR WHO GOT YOU STARTED PHOTOGRAPHING DOGS?
My family's dogs used to be my first models. I recall trying to take pictures of my Russian Spaniel with a film point-and-shoot camera in my childhood. Later I've been testing my first DSLR camera on German Shorthaired Pointer named Joy. My father had many books on dogs with colourful illustrations and I wanted to learn how to take shots of my pets just as well. Besides, I just wanted to capture funny moments and emotions to keep them as a remembrance.
WHAT TYPE OF CAMERAS DO YOU SHOOT WITH? WHICH IS YOUR FAVOURITE LENS AND WHY?
I had many different cameras. However, in recent years, I conducted commercial shoots with Nikon D800. Not long ago I switched over to Nikon D850, and I consider it a top camera totally meeting my needs thanks to:
huge resolution, which lets me crop pictures very boldly and not lose details, for example, when shooting dogs in motion;
excellent dynamic range, which allows me to process RAW files flexibly and save pictures taken in poor lighting conditions or with exposure mistakes;
relatively acceptable continuous shooting rate of 9 fps.
My favourite lens is the latest Nikkor 70-200mm f/2.8E FL ED AF-S VR. I do not understand how I lived without it before, since it is very convenient, fast, tenacious, sharp and it perfectly blurs the background. Of course, the telephoto lens is the best for exterior shooting, as it does not distort the body proportions. However, I am in search of the perfect high-aperture wide-angle lens for informal life-style shots, as well as shooting dogs in architecture.
WHERE DO YOU FIND INSPIRATION?
Inspiration is all around me. I can spot some beautiful location — natural, urban or interior, and immediately imagine the dog model there. Likewise, I notice beautiful light, weather phenomena, or fancy décor / props. Animals themselves are inspiration. I prefer reportage approach to shooting and rarely do staged photography. So, inspiration is always there for me together with the excitement of catching the best shot in routine locations. I am used to considering the environment as a potential scene for shooting and often regret that there is no model nearby. I take photos of the location that catches my eye and try to come back there with a dog model.
Besides I find inspiration in my equipment. I feel confident, knowing that the gear will not fail at decisive moment, and try to get the most out of it using some new techniques or putting creative ideas into practice.
And of course, watching and analysing photos of prominent photographers in various genres, styles and techniques, as well as movies and video clips is also important for inspiration. I often make screenshots of some creative ideas that deal with lighting or colour.
DO YOU CONSIDER IT A CHALLENGING JOB? HOW DO YOU GET THE ANIMALS TO STAY AND "POSE" FOR YOU?
This job is really not as easy as it may initially seem. It requires both physical training and certain knowledge. I remember that at the beginning of my career, I studied breed standards before each photoshoot. I surfed the Internet to learn about the best ways of presenting different breeds at photo and consulted with dog owners. Of course, there are many genres where the correct exterior is not required, but for taking shots of professional breeders' dogs, such knowledge is critically important. Moreover, I have to know the dog psychology since it is the basis for my work with the model in the frame. I predict the action in a particular situation or induce the model to a certain reaction to unusual sounds, sharp movements, treats, toys, and interaction with the owner or other animals. Dog handlers greatly facilitate my work undoubtedly. In difficult or unsafe locations, I take pictures using a show lead or a leash, which I erase in the photo editor afterwards. And sometimes all you need to do is create a comfortable and safe environment, keep an eye on the model and take shots.
One more challenging aspect is that the job is very dynamic. You need to monitor the dog's emotional and physical condition, as well as the situation all around, lighting, background, composition and camera settings all the time. Sometimes, I have only a split second to capture that one shot with the ears up. You need to be involved in the process permanently and respond to changes quickly.
You also have to edit photos as fast as possible in some cases. For example, clients need photo reports from dog shows or litter advertising photos in a day or two since the news should be relevant, and the puppies grow rapidly.
WHAT IS THE BEST PART OF BEING A FINE ART PHOTOGRAPHER? AND THE MOST CHALLENGING?
For me, the best part is a joy of the moment. When I am carried away with the shooting process, I am very concentrated on my work. I feel great excitement to shoot that very shot, to make it even better. It is a moment when I forget about everything in the world, kind of nirvana.
The most difficult moment for me is to select photos, as there can be hundreds or thousands of them after one photo session. Some of them are just duplicates of previously taken pictures, and some are overestimated on an impulse. I have to look at the photos with an unbiased eye to choose the best ones. Sometimes I ask my friends to help me with this task.
DESCRIBE A TYPICAL SESSION FOR US. WHAT KINDS OF THINGS ARE YOU THINKING ABOUT WHEN YOU'RE BEHIND THE CAMERA?
As it is known, success depends upon previous preparation. Therefore, I agree on all the main points of shooting in advance. First, I find out the customer's expectations and tasks, regardless of whether it is an exterior photo session, content shooting for social networks, or a family photo shoot, etc. In some cases, I can ask the client to send me references to clarify the task. Then we agree on the location. I prefer safe places where you can let the dog run without leash or meet other dogs, kids etc. However, I do shoot the dogs on a leash in a crowded city for example. We decide on the date and time, which can be corrected in the future, depending on the weather conditions. I prefer shooting in cloudy weather or during the golden / blue hours. Immediately before shooting, I remind my clients to take their dog's favourite treats, toys, water, grooming tools, and napkins with them. I recommend them not to feed the dog before photo shooting if it has food motivation and do the proper grooming. We meet on the agreed day, I give the animal some time to look around and get used to the situation while I observe its behaviour, interact with the owner and study the dog's exterior. We take a walk; I look for an interesting composition, pay attention to the fore- and backgrounds, as well as rhythm, framing, colour, key / backlighting and other elements that can add artistry to the picture. I notice the places that commeasure with the model, the objects the dog can interact with and the elements where I can place it. I often shoot in natural light, but sometimes I also use additional impulse or continuous led-light sources. Most recently, I like to make night city lighting sessions. Having positioned the model, I try to attract its interested attention, evoke the desired emotion, or just let the dog get comfortable on the spot. In the process of shooting, I communicate with the owner, find out what commands the pet can perform, what its habits and favourite games are. All these can make the shooting more varied. I alternate static shots with dynamic ones and the shots with the owner. I love sincere emotions of their communication and spontaneous game moments. Animals need to relax after or between static shots. My photo shoot is often limited by the dog's general condition, since everyone gets tired sooner or later)
WHICH BREED IN YOUR OPINION IS MOST PHOTOGENIC?
For me, graceful and powerful aristocratic Rhodesian Ridgebacks are unconditional leaders… In general, shorthaired dogs of similar appearance and type of body structure are all photogenic for me. I adore German Shorthaired Pointers, Weimaraners, Dalmatians etc. I also like funny dynamic shots with long-eared dogs such as Bassets, Bracco Italiano, etc. Some breeds historically and stylistically fit perfectly into certain environments and look organically photogenic there. Probably the most difficult breeds for me are long-haired ones with fringe overlapping the eyes. The thing is the straight glance to the camera or just an interested open gaze is always the point of focus in the photo.
Taken as a whole, I can say from my experience that photogenicity does not depend on the breed; it is rather the dog's personal charisma and the depth of its gaze.
ARE THERE OTHER DOG PHOTOGRAPHERS THAT INSPIRE OR INFLUENCE YOU? IF NOT, WHO OR WHAT DOES?
I enjoy watching the works of other photographers and probably borrow something from them subconsciously. However, even when I try to repeat a certain style of photo shoot or processing, I return to my usual work algorithm. I strive to ensure that my photos would have some unique and recognizable style and do not need to be signed.
Aside from commercial photography, I am inspired by the distinguished photographers whose pictures of dogs have become the world art masterpieces. These include staged portraits of Weimaraners by William Wegman and street photos by Elliott Erwitt.
IS THERE ANY ONE THING YOU WISH YOU HAD KNOWN OR PIECE OF ADVICE YOU WOULD GIVE TO AN ASPIRING FINE ART PHOTOGRAPHER?
The key piece of advice is to photograph as much as possible and in various challenging conditions. Choose complex models, for example, shelter dogs. This experience will help you to feel confident in your skills in any situation.
DO YOU HAVE ANY PETS OF YOUR OWN? AND WHAT IS YOUR FAVOURITE ANIMAL?
I have a Rhodesian Ridgeback, Archy. He's 2.5 years old and he's is my favourite model, I test all my new ideas on him. Some time ago I had rats, the smartest cuties). In general, I definitely love all animals.